Camp CAN-I-COOK
Where else can your child leave the house for a few hours and come home with gained culinary skills, new friendships, original YCA recipes, and memories to utilize and last a lifetime? You got it, only at Young Chefs® Academy! Camp Can-I-Cook is scheduled according to local school schedules and are available during holiday breaks, scheduled school closings, and of course summer break!

See our schedule below and get your child signed up for camp today!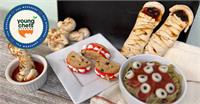 Bewitching Bites Halloween Workshop

with

YCA

Chef
Sat, Oct 20, 2018 at 11:00 am - 12:30 pm
Double, Double, Toil & Trouble...We "knead" you to join us...If You Dare...as we fire up the cauldron to create ghoulishly delicious bites that will bewitch your taste buds. With culinary tricks around each corner, we'll bring sweet treats and savory eats to life with a spooky-fresh pasta dish, gourmet apples & a surprising twist on caramel corn.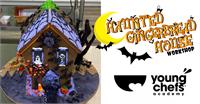 Haunted Gingerbread House Workshop

with

YCA

Chef
Sat, Oct 27, 2018 at 11:00 am - 12:30 pm
Get into the Halloween spirit and have some fun with YCA building your own Haunted Halloween Gingerbread House. Feel free to dress in your Halloween costume.